Services
Technical Support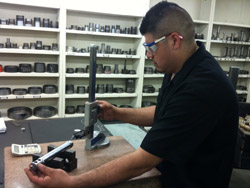 Hydratech has over 30 years of continuous design experience designing hydraulic cylinders and pneumatic cylinders for a vast array of applications. There is virtually no application for which we cannot provide a robust, reliable, efficient cylinder design to meet all customer requirements.
Our engineering staff utilizes SolidWorks for design and drafting, Cosmos for in-house Finite Element Modeling and Anaysis and Mathcad for design calculation management and reporting. These state-of-the-art tools combined with many years of experience create the ability to provide extremely fast responses to your hydraulic cylinder design needs.
We think of our staff as teamed with that of our customers on each and every project and provide timely and clear communications on all subjects. We are confident you will enjoy working with our friendly and knowledgeable staff.
Services Offered:
Cylinder design for your application
Two and three dimensional drawings and models
Structural Analysis including FEA
On-site design and application troubleshooting
Design of hydraulic circuits
Cylinder Design Features:
Bores from 0.5 - 14 inches, stroke to 340 inches
Single and double acting
Telescopics
Welded, bolted, or tie rods
Ultra high endurance coatings
All stainless steel cylinders
Ultra high velocity and high impact resistance
Ultra low temperature applications
Integrated valves
Positioning devices
Locking mechanisms


Mechanical rod locking devices
Cushioning
Piggyback designs
Internal ports
Rephase cylinders
Non-rotating
Linear feedback
Double rod end
Actuators
Composite pneumatic cylinders